Although I'm among the least tech-savvy people I know, I've been persuaded that a blog will be an effective platform for me to share my passion for helping people resolve conflict. I first trained to become a mediator some twenty years ago, through a faith-based program serving others in my church. That role evolved into a full time calling as a mediator, helping lawyers and parties settle civil disputes.
Since 2009, I've taught mediation as an adjunct professor at The University of Alabama Law School. During that time, I've become a student of mediation myself. It's my belief that mediation is more of an art than a science — and there is no one way, or best way, to do it.
Although my wife is convinced that I am no expert in resolving my own conflicts, I've enjoyed a measure of success in helping others with conflict resolution. In focusing on principles and subjects relating to mediation and resolving conflict, it's my goal with this blog to offer insights and advice that benefit my readers professionally and personally. Which is why I welcome any and all suggestions for addressing mediation issues you consider important.
Thank you very much for your interest. I hope you'll find the time you invest with me here is time well-spent.
—Bill Ratliff
My Mediation Experience
Since 2006, I've mediated hundreds of cases to partial or complete resolution, including cases in the following categories:
Automobile Accident
Wrongful death claims arising out of automobile accident.
Boundary Line
Lawsuit between neighbors over boundary line.
Construction
Multi-million dollar construction dispute between housing authority, contractor, sub-contractors, architects, engineers and lenders — resulting in the completion of the project and settlement of all claims.
Dram shop
Wrongful death claims arising out of automobile accident and alcohol.
Healthcare
Negotiated the split of a 35 member doctor group.
Insurance
Coverage disputes between insurance companies.
Intracompany
Helped resolve departmental conflicts arising out of working relationships between employees and departments for a Fortune 500 company.
Medical Malpractice
Wrongful death claims arising out of treatment in hospital.
Nursing Home
Wrongful death claims arising out of stay in nursing home.
Personal Injury
Fall from a treestand while hunting resulting in paralysis.
Real Estate
Multi-million dollar dispute involving municipal bond default and numerous lawsuits between subdivision developer, contractors, home owners, lenders, junior lien holders and municipality.
Religious or Charitable Organizations
Negotiate church split for a 4,000 member church.
Shareholder
Multi-million dollar shareholder derivative suit involving publicly traded company with claims for mismanagement against officers and claims against accounting firm for negligent audit work.
Subrogation
Claims arising out of fire loss.
Trucking
Injuries from accident involving eighteen wheeler and automobile.
Will Contest
Familial dispute over validity of will.
Professional Biography
Bill Ratliff's law practice has been principally in the area of commercial litigation and insurance defense. He now focuses exclusively on alternative dispute resolution, both as a mediator and an arbitrator. Bill was one of the first attorneys in the state of Alabama to be approved for appellate mediation appointments. Bill is a certified mediator with the American Arbitration Association, and he is on the roster for the Alabama Center for Dispute Resolution.
A wide variety of trial experience serves Bill well as a mediator and arbitrator. He has represented individuals, financial institutions, automobile dealerships, manufacturers, construction companies, insurance companies, and other types of corporate clients, as both plaintiffs and defendants, in both state and federal court. He also has extensive experience representing creditors in workouts and in bankruptcy proceedings under Chapters 7 and 11 of the Bankruptcy Code.
Bill was born in Birmingham, Alabama, in 1956. He attended the University of Alabama, and in 1978, he received a Bachelor of Science degree in corporate finance. Bill attended Cumberland School of Law at Samford University and graduated in 1981. He worked with the Birmingham firm of Cabaniss, Johnston, Gardner, Dumas & O'Neal until 1988. At that time, he joined Dale Wallace and Bert Jordan to practice law. They have been partners or members of the same firm for over 20 years.
Bill is admitted to practice law before all Alabama federal district courts and all Alabama state courts. He is a member of the Alabama State Bar, the Birmingham Bar Association, and the American Bar Association.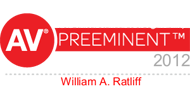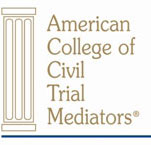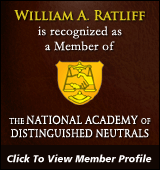 Practice Areas

Areas of Concentration

Bar Admissions
S. District Court Middle District of Alabama, 1981

S. District Court Northern District of Alabama, 1981

S. District Court Southern District of Alabama, 1981

Alabama, 1981

Education
Cumberland School of Law, Samford University, Birmingham, AL, J.D., 1981

The University of Alabama, Tuscaloosa, AL, B.S, Corporate Finance, 1978

Arbitration Panel Affiliations
Agency for Dispute Resolution, Inc.

American Arbitration Association

EEOC

FINRA

ICC

National Arbitration Forum

National Health Lawyers Association

Professional Affiliations
Fellow, American College of Civil Trial Mediators

Member, The National Academy of Distinguished Neutrals

Adjunct Professor of Mediation at the University of Alabama School of Law (2010 to present)

Alabama Center for Dispute Resolution

Alabama State Bar

American Bar Association

Birmingham Bar Association

Christian Legal Society

Federal Court Neutral

Previous Positions
Cabaniss, Johnston, Gardner, Dumas & O'Neal, Associate, 1984-1988

Corley, Moncus, Bynum, and DeBuys, Associate, 1981-1984

Additional Info
Adjunct Professor of Mediation
University of Alabama School of Law (2010 – present)

Contact Information
Phone: (205) 874-0306
Fax: (205) 874-3260
Email Bill
P.O. Box 530910
Birmingham, AL 35253
Download vCard
Print this Page

Legal Assistant:
Lindsi Bolton
Phone: (205) 874-0364
Email Lindsi